Paul McCartney has confirmed a brand new date for his One On One tour in the Czech Republic this June
march 29, 2016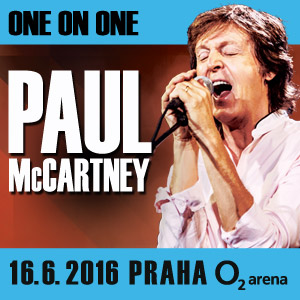 Paul McCartney has confirmed a brand new date for his One On One tour in the Czech Republic this June. As with the launch of every new Paul McCartney tour, One On One promises to unveil a dazzling re-designed set, dozens of classics from the most beloved catalog in popular music, spanning Paul's entire career--as a solo artist, member of Wings and of course as a Beatle—and no shortage of surprises. One On One is set to hit Prague on 16th June as Paul returns to the city for his first appearance since 2004.
One On One is the first new Paul McCartney tour since the juggernaut that was Out There came to its stunning conclusion on October 22, 2015 with Paul's first ever concert in Buffalo, NY. Out There's finale capped off an incredible 2015, in which the tour played 27 shows in 22 cities throughout the world, with highlights including Paul's historic debut in South Korea—where the crowd at Seoul Olympic Stadium's refusal to stop singing the refrain to "Hey Jude" literally forced Paul to reprise the song in the first encore, playing that signature bassline live for the first time—three nights at the Tokyo Dome and one at Budokan, a sold out stand at Paris' majestic Stade de France, more than a dozen packed arena shows across the U.S., UK and Europe, and triumphant headlines at festivals such as Firefly, Roskilde, and Lollapalooza in Chicago—the latter a tour de force performance for a 100,000-strong crowd featuring a guest appearance from Alabama Shakes' Brittany Howard on "Get Back."
The Paul McCartney live experience is everything any music lover could ever want from a rock show—and so much more: Nearly three hours worth of the greatest moments from the last 50 years of music, dozens of songs that have formed the soundtracks of our lives. Paul and his band have played an unparalleled range of venues and locations: outside the Coliseum in Rome, Moscow's Red Square, Buckingham Palace, The White House, a free show in Mexico for over 400,000 people, the last ever show at San Francisco's Candlestick Park where The Beatles played their final concert 1966, and even one performance broadcast live into Space! Featuring Paul's band of the last 10+ years – Paul "Wix" Wickens (keyboards), Brian Ray (bass/guitar), Rusty Anderson (guitar) and Abe Laboriel Jr (drums) – the show is never anything short of life-changing.