QUEEN RELIVED by Queenie in Prague's O2 Arena on May 18, 2023
july 20, 2022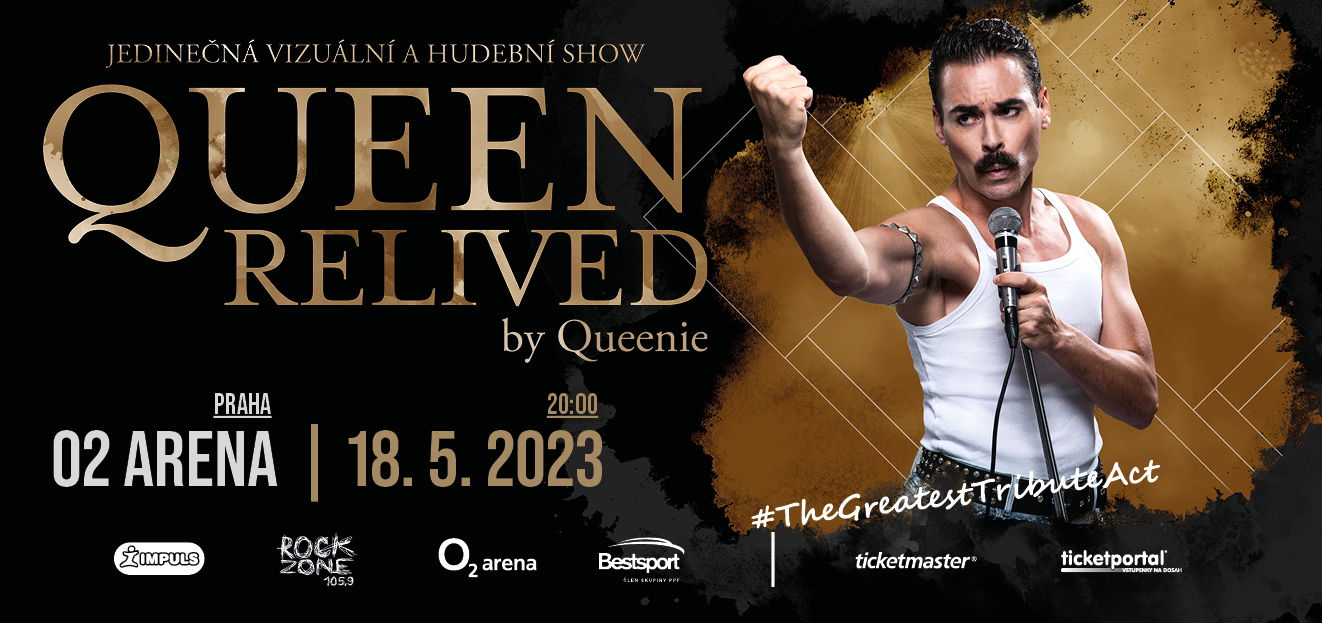 In September 2021, three QUEEN RELIVED by Queenie concerts took place in Prague's O2 arena. The audience's interest was so big that we have prepared another date for this great show, May 18, 2023. Almost exactly three years after the first scheduled performance, you can finally experience stress-free the unique atmosphere of a spectacular spectacle and the world's most authentic experience of the phenomenal music performed by Queen Michael Kluch and the group Queenie.
Spectators who saw this event in September 2021, as well as those who could not see this rescheduled date, can look forward to a spectacular show, commemorating the glory of the group that rewrote the history of rock music. The popular hits of the British icon will be played by the Czech formation Queenie, which has been taking care of her repertoire for 17 years and is considered one of the most authentic tribute bands in the world. The experience will be completed by a massive light and multimedia show full of 21st century technology.
The show is presented in a touching way by a personal friend of Freddie Mercury, Petr Freestone. Others are already a very spontaneous experience. Shocking pyrotechnic effects, an incredibly sharp image of the largest LCD screen ever used in the O2 arena, a large and multi-height gold-black stage, from which two intersecting catwalks extend over curved bridges, clearly refer to a show in the style of the greatest music stars. Superior lighting elements, together with four several-ton light blocks that float, rotate and tilt above the stage, create an unforgettable play of lights and colors. A piano with steps is extended from the fifth light block and together with the frontman flies above the heads of the audience over half of the arena. The elaborate composition of the songs, combined with their authentic presentation in the original keys and arrangements, and with the absolutely breathtaking capture by the band Queenie together with the phenomenal voice of Michael Kluch, creates the feeling that you are watching a sequence of video clips of Freddie Mercury and the band Queen. Let yourself be carried away and experience the music of Queen at its most famous as we remember it. This is QUEEN RELIVED by Queenie.
THE OFFICIAL SELLERS OF TICKETS FOR EVENTS AT THE O2 ARENA ARE TICKETMASTER AND TICKETPORTAL. WE DO NOT WARRANT THE VALIDITY OF TICKETS PURCHASED FROM OTHER SELLERS.