SABATON will go on a big European tour "The Tour To End All Tours" in the spring 2022 and one stop belongs to the Czech Republic! In Prague, O2 arena, March 12, 2022!
july 2, 2021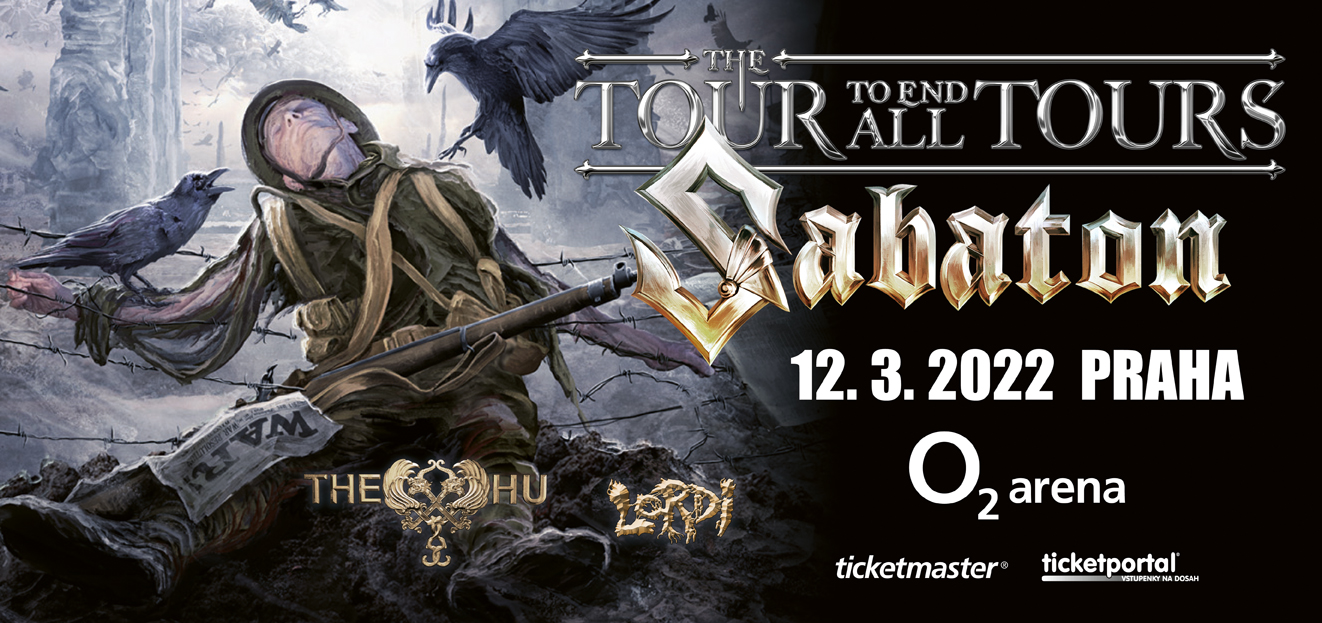 Does bombastic, hooky and energetic heavy metal force you to go crazy – in a good way? Well then, unless you have been crawling in muddy trenches for the last two decades, you have been exposed to the majestic firepower of history-loving metal giant SABATON!
In 2019, SABATON celebrated the 20th anniversary of its existence, with the release of magnificent opus "The Great War" (2019), another concept record from the vaults of fascinating military history, with they dived into the gloomy and bloody atmosphere of World War I. This frantic war shook the whole planet during 1914-1918 and caused devastating consequences that still echo to this day. The celebrations were ended by the large and very successful world tour "The Great Tour", on which SABATON visited PRAGUE, just before the outbreak of the coronavirus pandemic.
Despite such unforgettable accomplishments, SABATON has never been a troop that likes to dwell in the past. For this unstoppable heavy metal panzer, there has always been just one window of opportunity: to march fearlessly towards next challenges.
And as you may have guessed right now … this unstoppable war machine has no plans to end its mission in the foreseeable future! Another mega tour is coming up and Prague, O2 arena will be in full fire again with SABATON! The plan of attack on Prague is planned for March 12, 2022! Start to arm!
And what more? SABATON got special reinforcements for the tour. THE HU and LORDI bands!
The Mongolian band THE HU is a young, modern rock band, rooted in the tradition of their homeland. The band's name translates to the Mongolian root word for human being, and their unique approach blends instruments like the Morin Khuur (horsehead fiddle), Tovshuur (Mongolian guitar), Tumur Khuur (jaw harp) and throat singing with contemporary sounds, creating a unique sonic profile that they call "Hunnu Rock." Their debut album, 2019 's "The Gereg", debuted at #1 on the World Album and Top New Artist Charts. With it, the band have accumulated over 250 million combined streams and video views all over world. Now they are preparing their second, highly anticipated record, which was recorded during the home quarantine, which will be released at the beginning of 2022 and which they will present to us, in Prague, O2 arena as a special guest of SABATON!
There is probably no need to introduce the second special guest. Popular monsters from Finland LORDI! When the coronavirus pandemic interrupted their big "Killectour", on which they presented their new unique album "Killection" (2020), and they were suddenly locked up at home, they were not idle. LORDI set out to write a new material. Supposedly, they have ready really unbelievably, insanely lots of a new material, so LORDI will definitely surprise us all again with something brand new!
Since Sabaton's inception on the threshold of a new millennium, these powerful Swedes have been conquering battlefield after battlefield. SABATON have a fairly large pile of gold and platinum on their account, such as the 4x platinum record "Carolus Rex" from 2012! Crowd-commanding headline shows at the largest European festivals, such as Polish Woodstock in front of half a million devoted admirers? High profile tours in Australia, Asia and both American continents…and the enumeration of all their victories could continue to infinity.
There´s nothing else to say. The Tour To End All Tours – SABATON, THE HU and LORDI – 12. 3. 2022, Prague, O2 arena! It´s going to be great!
Ticket sales, exclusively in the Ticketmaster and Ticketportal networks!
THE OFFICIAL SELLERS OF TICKETS FOR EVENTS AT THE O2 ARENA ARE TICKETMASTER AND TICKETPORTAL. WE DO NOT WARRANT THE VALIDITY OF TICKETS PURCHASED FROM OTHER SELLERS.