Superstar André Rieu returns to Czech Republic in 2017
october 18, 2016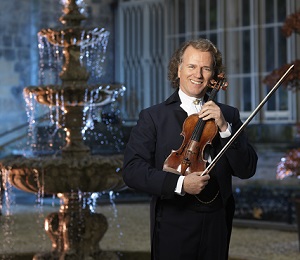 He is the one of the most exceptional artists of our time: Dutch violinist André Rieu! Following concerts in Argentina, Australia, New Zealand, Great Britain and Germany the world famous artist returns to Czech Republic in 2017 to enchant his Czech fans in Prague.
Don't miss out on a fascinating evening with André Rieu at the O2 Arena, Prague, on 12 May – a romantic, humorous and unforgettable concert!
Tickets (from CZK 1,390) are available from 10 am, 21 October, on www.ticketportal.cz. Holders of "Platinum" tickets (CZK 3,990) will receive a complimentary CD "André Rieu Stars" in the O2 Arena on the day of event.
"Emotions are the most important thing in the world!", says André Rieu. "We should try to make the decisions in our lives with our hearts, not our heads. People oftentimes ask me how I choose what music to play – it's pure intuition. I love Johann Strauss but Andrew Lloyd Webber and Bruce Springsteen excite me as well. We should stop limiting ourselves with categories and boundaries – not just in terms of music but in our lives in general".
40 million albums sold, 600.000 fans flock to his concerts yearly and the biggest private orchestra in the world: Andrés accomplishments speak for themselves. André Rieu is a modern-day Johann Strauss, celebrated internationally as the "King of Waltz" of our time. He has been living his dream since 1994: travelling the world with his own orchestra. Since then he has delighted a combined live audience of ten million in 36 countries on six continents, e.g. in Australia, Brazil, South Africa, China, the USA and all over Europe. His program contains the best known hits from movies, musicals, operas, rock and pop and of course the most beautiful waltzes. His fans celebrate him, his repertoire and his unique performance and entertainment style enthusiastically. He gave his biggest concert to date in Melbourne in front of 38.000 fans. All costumes, instruments and stage constructions are produced four times so as to guarantee availability of the extravagant décor while travelling back and forth between the continents.
André Rieu is a record setting artist: His albums reach the Top 3 of the UK Pop Charts on a regular basis, so far he has scored 30 number one albums worldwide which he records in his own studios in Maastricht. The screening of his open air concert in Maastricht 2015 was the first concert movie to surpass one million British Pounds at the box office in just one day. With that feat Rieu broke a record set by One Direction. André Rieu has close to two million Facebook fans, his videos on Youtube count over 300 million views. In his private life André has been married for over 40 years and lives with his wife Marjorie in a romantic castle in his hometown of Maastricht. He has two sons and five grandchildren.