The Czech party with Impulse 2022 announces the line-up
february 28, 2022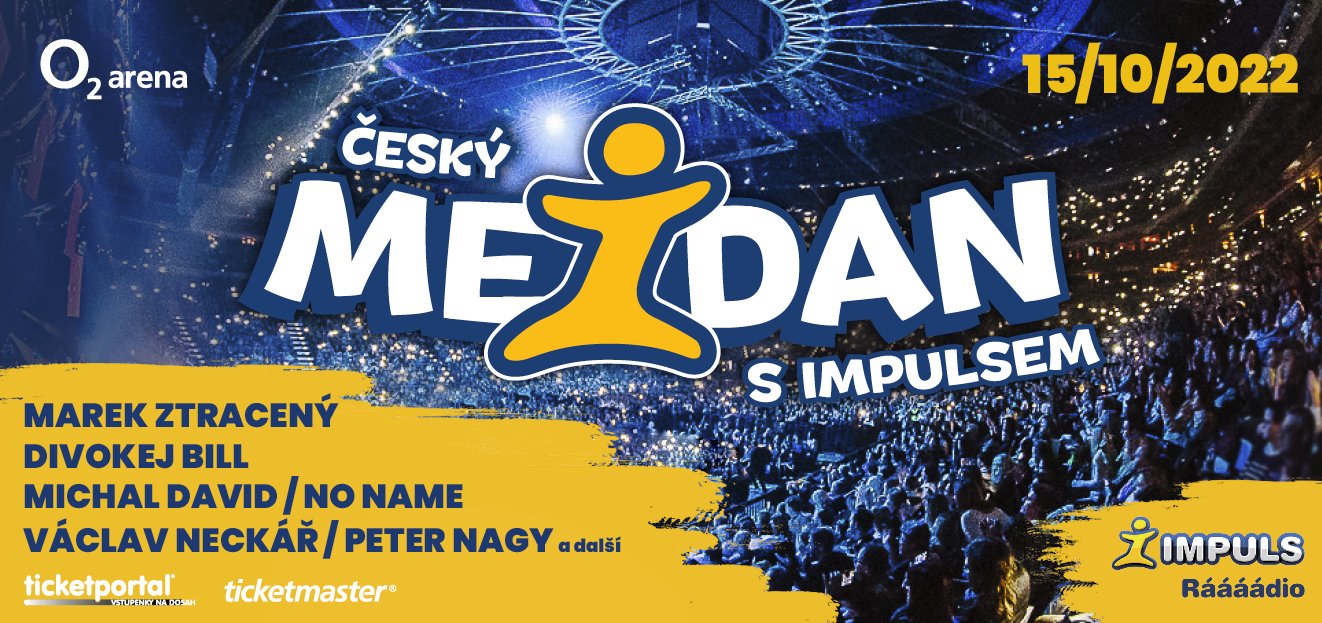 MAREK ZTRACENÝ, DIVOKEJ BILL, MICHAL DAVID, NO NAME, VÁCLAV NECKÁŘ and PETER NAGY! These are the names of Czech and Slovak stars chosen by Radio Impuls listeners themselves for this year's magnificent celebration of live domestic music. This year, they were given the opportunity to vote for their favorite performers, and most of them managed to get 2022 to participate in the Czech Party. An exceptional five-hour concert will take place in Prague's O2 arena on Saturday, October 15, 2022, for the sixth time.
"This year's party is great. I'm looking forward to talking to everyone, because I missed it at a time when we didn't see each other much," said this year's concert header Marek Ztracený after learning who he will share the stage with at the O2 arena this year. And what will Marek play? "We will build the playlist so that people can have fun so that they can sing with us and be on the same page with us. I will not come up with exaggerated news. I may play one, but I want everyone to sing together."
Michal David, this is a name that simply belongs to the Czech party, just like the party anthem Mejdan according to plan. "I'm definitely looking forward to No Name, because I like boys and I like their songs, and I'm looking forward to seeing Mark Lost, I haven't succeeded yet. I know he's a great talent and a pianist like me. So it will be a show, as befits and belongs to Rádio Impuls," says Michal David. It's wonderful that he will return to the O2 arena and it will really start with hits such as Céčka, Non-stop, Pár přátel or Decibely lásky.
"We played at the O2 arena when we were 20 years old. When you get up there, you sting and emotions train with you. The 20,000 people, that's a cut," recalls Roman Procházka from the band Divokej Bill, which will premiere at the Czech Party with Impulse and promises to play all its hits such as Plakala, Rozárka, Znamení, Mládání or Všema deseti. At the same time, the Bills are preparing new songs, which they will present live in the arena.
The Slovak No Name will have the longest trip to Prague. The band of the three Timk brothers and their friends will come from Košice. They penetrated the Czech music market in 2000 with the album I'm Waiting for a Miracle, which brought with it two golden hits, Žila and Ty a tvoja sestra. No Name are the most popular Slovak band in the Czech Republic. Eleven victories in the Most Popular Foreign Band category in the Czech Nightingale poll testify to this. Charismatic singer Igor Timko is also one of the Million moderators of Radio Impulse.
"It simply came to our notice then. Although I don't have a birthday until October 23, I will celebrate it at the party on October 15," Václav Neckář replied happily when the Impuls asked him if he would come to play at the Czech party with Impulse. There are over five hundred recorded songs on his account, and dozens of them belong to the golden Czech classics. Who doesn't know Shadow of Cathedrals, Who enters your dreams my love or I bought that guitar for you? The whole arena will definitely sing them.
"It's always a great event and I'd like to be there this year," Peter Nagy praised the party atmosphere at the Impulses. Together with the legendary band Indigo, he confirmed his great musical form on the award-winning new album Petroleum, which received an Angel nomination.
The line-up for this year's Czech Party with Impulse is almost complete and promises that there will definitely be no shortage of floods of Czech and Slovak hits in the autumn O2 arena.
There is usually the greatest interest in the best places, so we advise: "Buy a ticket before the others". This is what the concert producers say – Radio Impuls, Stratex Communication and Bestsport. Once again, there are also special VIP Platinum tickets for sitting right on the podium. Tickets are available in the Ticketportal and Ticketmaster sales networks in the price range of CZK 490 – CZK 2,590.
You can find more information at www.impuls.cz and the Facebook profile https://www.facebook.com/raaaadio.
THE OFFICIAL SELLERS OF TICKETS FOR EVENTS AT THE O2 ARENA ARE TICKETMASTER AND TICKETPORTAL. WE DO NOT WARRANT THE VALIDITY OF TICKETS PURCHASED FROM OTHER SELLERS.