The magical musical on ice Cinderella returns to Prague's O2 Arena after success abroad
november 30, 2022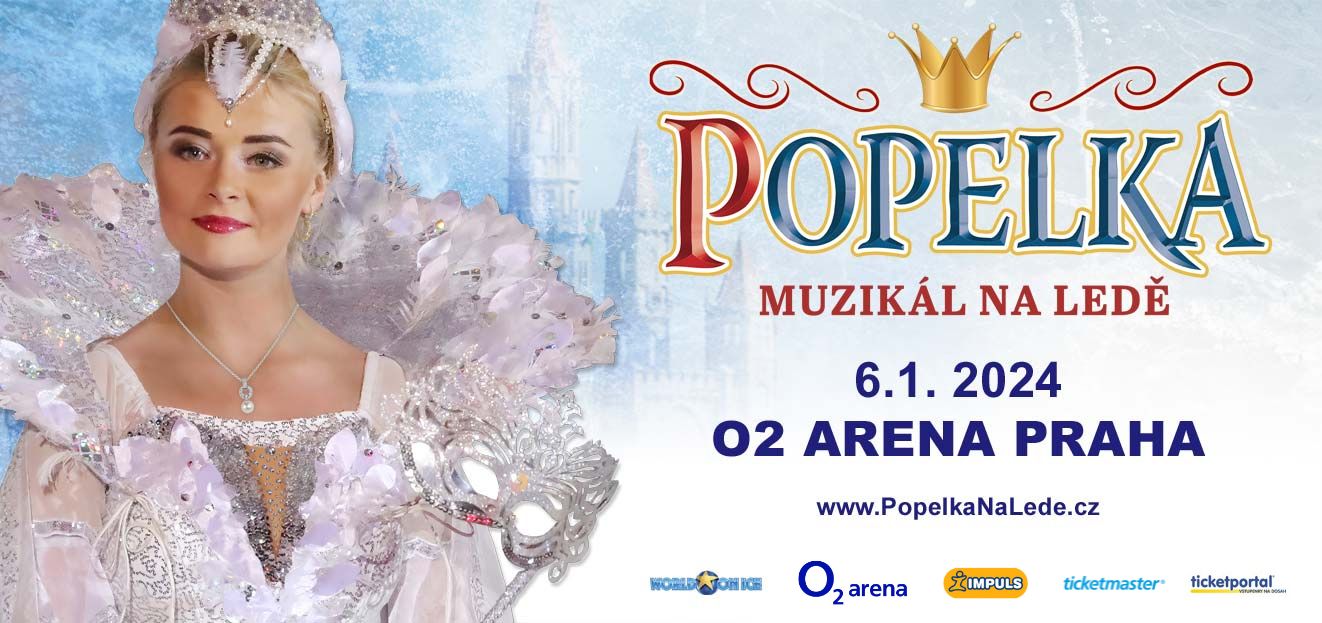 A great musical on ice POPELKA (Cinderella) with an excellent cast of actors and singers. The show full of European figure skating stars returns to the O2 Arena for the fifth time for Three Kings Day on 6 January 2024. Let yourself be enchanted by the story of Cinderella once again, as well as hundreds of thousands of spectators in five European countries!
The show, which takes place simultaneously on the ice and on an impressive variable stage, is a unique experience for children and adults alike. A stellar cast, excellent figure skating performances, challenging acrobatic numbers, special lighting design, 300 period costumes, magic and many other effects will transport you into a world of fairy-tale fantasy.
The voices of Cinderella and the Prince were lent by Lucie Bílá and Ondřej Ruml. The acting and singing roles are played by Pepa Vojtek, Dana Morávková, Václav Kopta, Hanka Křížková, Tomáš Savka, Vlastimil Harapes, Hana Buštíková, Rudolf Kubík and others. The performers are an international figure skating ensemble of athletes from seven countries, including soloists from leading European figure skating shows.
The script by Jindřich Šimek, containing all the elements of a fairy tale fantasy, the beautiful original music by Petr Malásek and the great song lyrics by Václav Kopta are the cornerstones of the success of this spectacular family show.
The spectacular set by Petr Hloušek with perfect film projection, fascinating lighting composition with lots of effects and magic, beautiful period costumes by Roman Šolc and amazing choreography by Jana Hübler and world champion in figure skating Radka Kovaříková – this is a magical musical on ice Cinderella, which is a world rarity in its artistic conception and rendering.
Sold-out arena performances during tours in the Czech Republic and Slovakia (2011 – 2020), in Ukraine in Kiev (2013, 2014), in Düsseldorf, Germany (2017), or the Austrian premiere in Graz (2020) show the enormous popularity of this performance, but it is also a clear proof that this original Czech production form successfully represents Czech culture abroad.
After a forced covid hiatus, it will celebrate its 10th season during its Christmas tour 2023/24.
Tickets will go on sale at Ticketmaster and Ticketportal on Thursday 1 December 2022 at 9:00 am.
Performance date and time:
January 6, 2024, 1:00 p.m.
January 6, 2024, 5:30 p.m.
Musical on Ice Cinderella is organized by WORLD ON ICE s.r.o and Bestsport, a.s.
For more information, visit http://www.popelkanalede.cz and Facebook.
THE OFFICIAL SELLERS OF TICKETS FOR EVENTS AT THE O2 ARENA ARE TICKETMASTER AND TICKETPORTAL. WE DO NOT WARRANT THE VALIDITY OF TICKETS PURCHASED FROM OTHER SELLERS.