Title battle OKTAGON 30 Pirát vs. Kincl in the O2 arena moves to February 26, 2022
december 2, 2021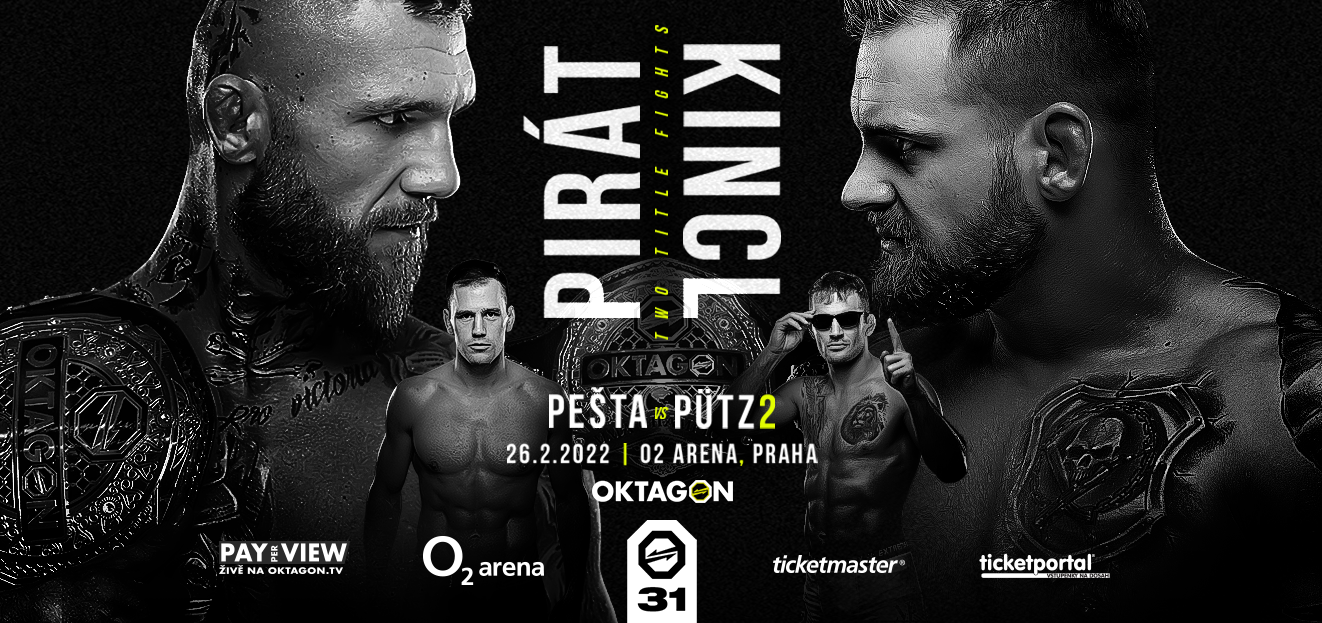 Will a new king be crowned? Pirate Vs. Kincl in the fight for the middleweight title. The OKTAGON 30 tournament, which was to take place at the O2 arena on Thursday, December 30, 2021, is being moved due to government measures against the spread of the pandemic and will take place at the O2 arena as OKTAGON 31 on Saturday, February 26, 2022 from 5:30 p.m.
On February 26, 2022, the Prague O2 arena will become a shrine, where OKTAGON 31 will take place, which will decide on a king of medium weight. Will the "Pirate" remain seated on his throne, or will the reign of the new OKTAGON star, Patrick Kincl, begin?
"There is a new king in OKTAGON!" Says the sovereign new personality of OKTAGON, Patrik Kincl, who goes straight for the middleweight title, which means that he also gets the injured Carlos Vémol into the corner.
However, the temporary champion "Pirate" Krištofič, training under Attila Végh, is already in a form we have never seen before. And he is determined to prove to everyone that the belt belongs to him and will remain with him, no matter who stands in his way.
And that's not all! Prague's O2 arena will also see its second title match.
One evening, two titles at stake. It is necessary to compare the accounts. Champion Viktor Pest and the anger of the German terminator Putz 2. Pest in the best form of life and in the weight that was destined for him. Pütz is convinced that in the first match he did not show everything and did not reveal all his cards.
Already purchased tickets to the O2 arena in Prague for the original date (December 30, 2021) remain valid for entry to OKTAGON 31.
Tickets for OKTAGON 31 at the O2 arena on February 26, 2022 are available in the Ticketportal and Ticketmaster networks. Tickets for the original dates (December 30, 2021, May 1, 2021 and December 30, 2020) for the event with the original name Oktagon 30 remain valid and do not need to be exchanged.
THE OFFICIAL SELLERS OF TICKETS FOR EVENTS AT THE O2 ARENA ARE TICKETMASTER AND TICKETPORTAL. WE DO NOT WARRANT THE VALIDITY OF TICKETS PURCHASED FROM OTHER SELLERS.