KINCL vs. VÉMOLA 2. The battle to be crowned the middleweight king and the Tipsport Gamechanger quarterfinals.
may 15, 2023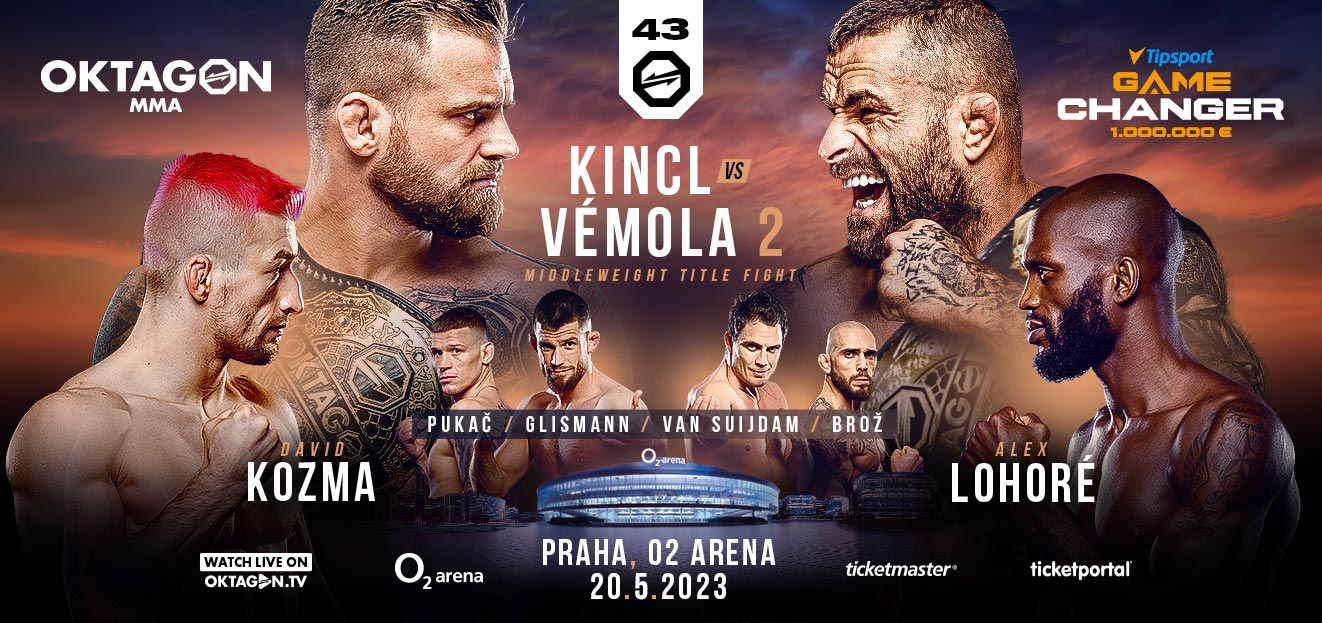 You've waited 5 long years for this SHOWDOWN… The battle to be crowned the middleweight king is the most anticipated fight in the domestic scene and now it is finally here! This epic battle will take place on 20.05 in the O2 arena as part of OKTAGON 43 where you will also witness the quarterfinal fights of the Tipsport Gamechanger tournament between Kozma and Lohoré and Glismann and Van Suijdam.
Their rivalry is like no other, and now, the middleweight champion Kincl will go head-to-head with light heavyweight champion Vémola! These two giants' paths will cross, but only one of them will emerge victorious. 4 years ago, Vémola was overjoyed with his victory but who will raise their hand in victory this time? A fight that is destined to go down in MMA history. 
The next round of the European MMA champions league will be held in Prague's O2 arena. The battle to advance to the semi-finals of Tipsport Gamechanger will see Kozma take on Lohoré and Glismann go up against Van Suijdam. And Surdu will go up against Gogoladze in a reserve fight.
And that's not all, you can expect to see thrilling fights between the rejuvenated Pukač and Brož, former lightweight champion Legierski vs. the explosive Kuzník, the energetic #3 middleweight Bryczek vs. former Cage Warriors champ Chadwick as well as a duel of strikers Melillo vs. Mazúch.
Guaranteed to be one of the best tournaments in the history of OKTAGON, OKTAGON 43 will feature one of the greatest audio-visual spectacles you will ever see.
THE OFFICIAL SELLERS OF TICKETS FOR EVENTS AT THE O2 ARENA ARE TICKETMASTER AND TICKETPORTAL. WE DO NOT WARRANT THE VALIDITY OF TICKETS PURCHASED FROM OTHER SELLERS.