Legendary rock band Scorpions returns to Prague with their world tour Rock Believer, where they will also present their new studio album.
september 29, 2021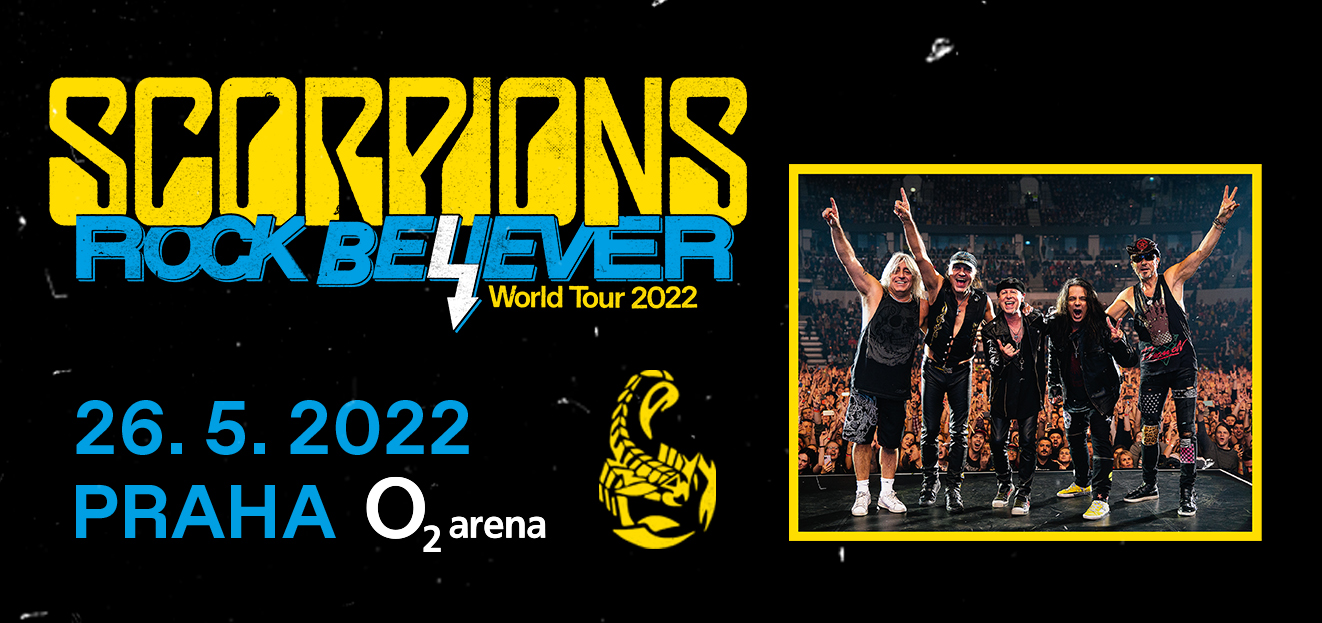 TICKET PRICES FROM 1290,- TO 1990,- CZK
TICKETS ON SALE AT TICKETMASTER AND TICKETPORTAL FROM 1.10.2021 AT 10:00
LIVE NATION CLUB, O2, IDNES PRE-SALE FROM 30.9.2021 10:00 – 1.10.2021 9:59
SCORPIONS FAN CLUB PRE-SALE FROM 30.10.2021 10:00 – 1.10.2021 9:59
The legendary rock band is returning with a world tour! The SCORPIONS will kick off their "Rock Believer World Tour"  in Las Vegas. Afterwards they will cross the Atlantic and head to Europe, where they will play in nine European countries.
2022 is a very special year indeed: Exactly 50 years earlier, on January 22nd, 1972, the SCORPIONS released their spectacular debut and started their international career. Another milestone and another reason to celebrate with their fans around the world:
"We had so much energy and fun recording the album and can't wait to finally play live again," says Matthias Jabs and Klaus Meine explains: "We have never had such a long touring break as we had during the pandemic. That of course increased our appetite, so that we are looking forward now to go back on tour again".
The SCORPIONS are Germany's number one rock band and one of the most important rock bands of the last decades. To date, the SCORPIONS have sold over 120 million records, played over 5000 concerts and created a timeless classic with their legendary single "Wind Of Change" that has dominated the charts around the world. Countless awards, a star on the Hollywood Rock Walk of Fame and other hit singles such as "Rock You Like A Hurricane", "Still Loving You" and many more followed. Their previous successes impressively underline the impact the SCORPIONS have in the rock world. The new album "Rock Believer" will be released on February 11.
The band comes back to Prague with Klaus Meine (vocals), Matthias Jabs (guitar), Rudolf Schenker (guitar), Mikkey Dee (drums), Pawel Maciwoda (bass guitar).
THE OFFICIAL DEALERS FOR EVENTS IN THE O2 ARENA ARE TICKETMASTER AND TICKETPORTAL. WE DO NOT WARRANT FOR THE VALIDITY OF TICKETS PURCHASED FROM OTHER DEALERS.