MILLENNIUM EXPLOSION will be graced by Cascada, Groove Coverage, Lou Bega and many more
november 21, 2022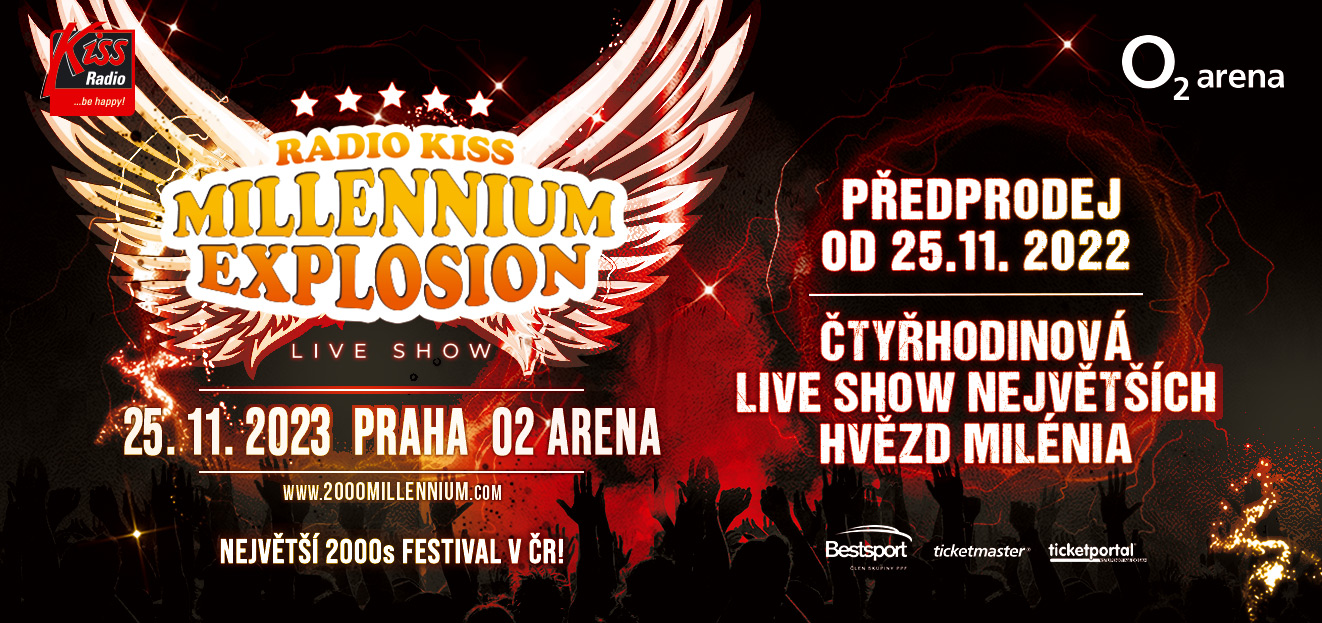 The biggest stars of the millennium are heading to the O2 Arena! The world concept Radio Kiss MILLENNIUM EXPLOSION brings a four-hour show and an endless after party.
Don't miss out on a unique experience in the company of artists who topped the charts at the turn of the millennium and still have a place on radio playlists and in dance clubs today.
An explosion of music, entertainment and dance memories awaits you in a spectacular setting and a show that the biggest concert hall in the country deserves. This unique event will take place on November 25, 2023.
When the words Cascada, Groove Coverage, or Lou Bega are mentioned, many fans already perk up. And what would you say to ten other international names, on one night, on one stage?
Would you like to dance the famous dance by Las Ketchup with fifteen thousand other people to the song Asereje, dance to the hits of Floorfill or shout the anthem I like to move it move it by Reel 2 Real together? This is what you'll only experience at the Radio Kiss MILLENNIUM EXPLOSION in the company of world-class singers, female singers, bands and your favourite Radio Kiss live presenters.
And that's not all for now, more big names are still set to be revealed on Radio Kiss. The millennium party of 2023 is coming up and will be unforgettable!
Tickets for the event go on sale on November 25, 2022 at Ticketmaster and Ticketportal. And since this is a unique event, it's not worth delaying the start of sales!
For more information, visit www.2000millennium.com.
THE OFFICIAL SELLERS OF TICKETS FOR EVENTS AT THE O2 ARENA ARE TICKETMASTER AND TICKETPORTAL. WE DO NOT WARRANT THE VALIDITY OF TICKETS PURCHASED FROM OTHER SELLERS.