Tickets for the galashow Prague Playoffs from 290 CZK
march 5, 2019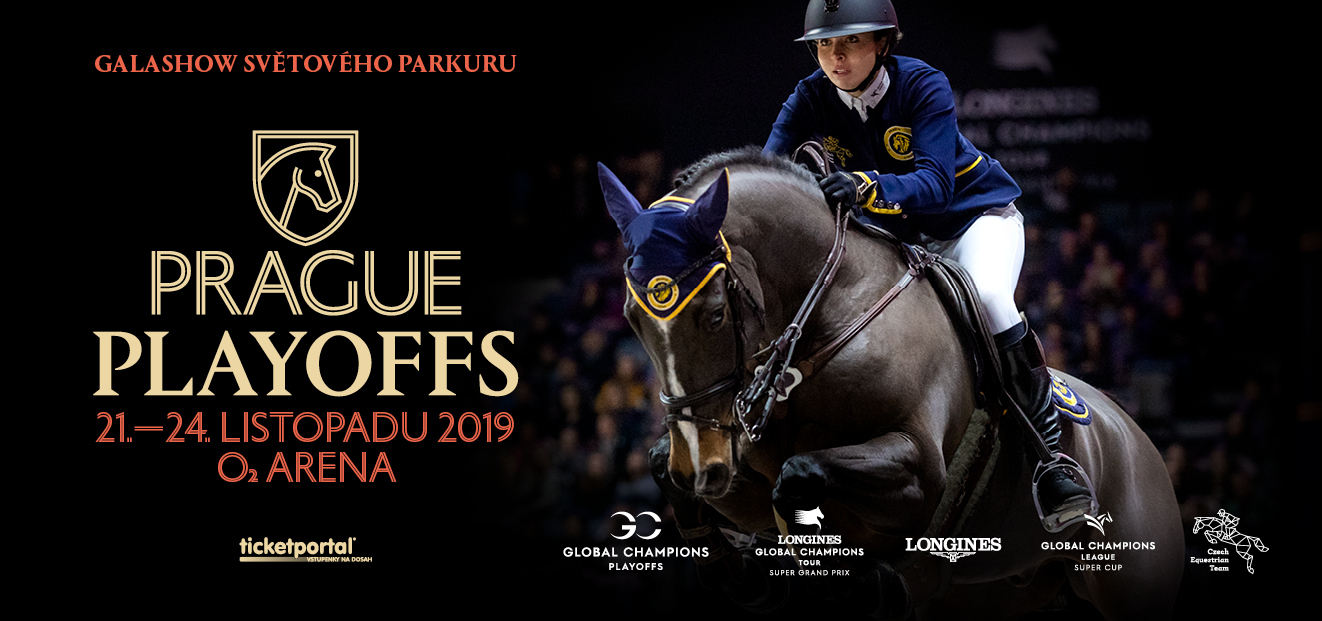 Galashow of the world's showjumping Global Champions Prague Playoffs returns to the O2 arena, Prague after a year. The exciting finals of yearlong series Global Champions League and Longines Global Champions Tour will take place from November 21 to 24, 2019. The fans will be able to buy tickets already by the end of this week. The sale via Ticketportal begins on Friday, March 8. The tickets start from 290 CZK.
The finals of the prestigious Global Champions series will return to the O2 arena in Prague after last year's successful premiere. The completely unique format of the Global Champions Prague Playoffs competition attracted 32 thousand spectators in Prague last year, another two million fans watched live via TV or internet streams. Czech Republic is represented by Prague Lions team. This year, Prague Lions will be featured by Niels Bruynseels (BEL), Gerco Schröder (NED), Anna Kellnerová (CZE), Marc Houtzager (NED), Wilm Vermeir (BEL) and Marco Kutscher (GER). It is possible that Aleš Opatrný will join the team in July – his top priority is now the Olympic qualification. From the first round in Qatar, the Czech team took 15thposition.
Global Champions Prague Playoffs will be hosted in Prague few weeks earlier – from November 21 to 24, 2019. The galashow tickets will be on sale on Friday, March 8. Just as last year, organizers have prepared tickets packages for the whole program, so that fans can enjoy all four competing days.
"We try to make the tickets available for as many fans as possible, so the cheapest category of daily tickets starts at 290 CZK. We believe that we can attract new fans of equestrian sports," says Jan Andrlík, the chairman of the organizing committee and deputy to Czech Equestrian Team. The prices of daily tickets in the 1stcategory range from 1290 CZK to 2190 CZK. Tickets to the 4thfloor can be purchased from 290 CZK.
Package tickets
For those who want to enjoy whole unique galashow of the world's best riders and horses, there are prepared package tickets from 1490 CZK. "It is a package of four separate tickets which are portable, so the buyer can enjoy the entire four-day program himself or can share the tickets with friends and family," adds Andrlík.
Package tickets holders can look forward several benefits:
the best places in the given sector, always closer to the field
preferential entry to the O2 arena
free access to the warm up area in small arena
10% discount in a fanshop
program of Prague Playoffs for free
Additionally, VIP tickets, party boxes or places at the table at club floor will be available. VIP tickets are possible to purchase via VIP service, more information can be found at www.pragueplayoffs.com. Tickets sale for Global Champions Prague Playoffs starts on Friday, March 8 2019 from 10 a.m. via Ticketportal (www.ticketportal.cz).
Quick Facts
Name: Global Champions Prague Playoffs
Date: 21-24 November 2019
Venue: O2 arena, Prague
Participation: 16 best teams + 16 best individual riders
Daily tickets – 1stfloor: 1290 CZK – 2190 CZK; 4thfloor: 290 CZK – 990 CZK
Tickets package for whole event: 1490 CZK – 6990 CZK