The NHL Global Series returns to Prague. The San Jose Sharks and Nashville Predators will compete on October 7 and 8 at Prague's O2 Arena
april 21, 2022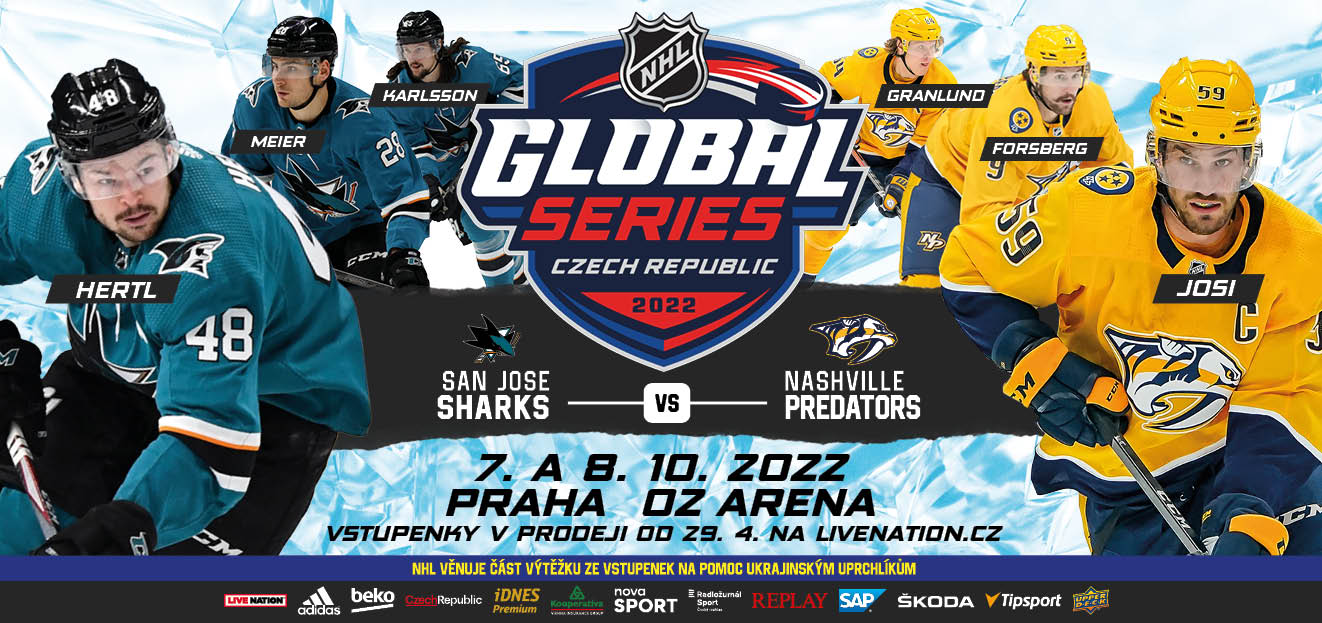 The National Hockey League (NHL) and the National Hockey League (NHLPA), in partnership with Live Nation, today announced plans for the 2022 NHL Global Series and 2022 NHL Global Series Challenge, featuring the Nashville Predators, San Jose Sharks, Colorado Avalanche and Columbus Blue Jackets.
Sharks and Predators will start the basic part of the 2022–23 season with mutual matches in Prague at the O2 arena on Friday 7 October and Saturday 8 October. Avalanche and Blue Jackets will compete in two regular season matches at Finland's Nokia Arena in Tampere on Friday 4 November and Saturday 5 November.
Before the matches in Prague, the Predators and Sharks will complete their training camps in Europe, and each of them will play an exhibition match within the NHL Global Series Challenge 2022. The Predators will report to Bern, Switzerland, and on Monday, October 3 . The Sharks will play an exhibition match in Berlin, Germany, against Eisbären Berlin at the Mercedes-Benz Arena on Tuesday, October 4.
TICKET PRICE FROM 1990 TO CZK 8990. TICKETS FOR SALE IN THE TICKETMASTER AND TICKETPORTAL NETWORKS FROM 29 April 2022 at 9:00. LIVE NATION CLUB, IDNES PREMIUM AND NHL ADVANCE SALE FROM 25. 4. 2022 9:00 - 29. 4. 2022 9:00. O2, CZECH ICE HOCKEY ASSOCIATION AND HNONLINE.SK ADVANCE SALE FROM 27. 4. 2022 9:00 - 29. 4. 2022 9:00
Tickets for the NHL Global Series 2022 and 2022 NHL Global Series Challenge will be on sale to the public at the dates and times listed above. Tickets will be sold gradually until stocks run out.
The NHL Global Series 2022 will be the ninth season of the NHL traveling to Europe to play in the regular season. These matches are a reward for crowds of loyal and passionate fans in Europe who enjoy live NHL matches available through international broadcast and media partners. The NHL's biggest stars are also featured on many social media platforms and on NHL.com in nine languages ​​for international league fans. There were 28 NHL regular season games in Europe. So far, 5 matches of the basic part of the NHL have taken place in the Czech Republic, all of which took place in the O2 arena in Prague. This year's matches in Finland will be the first ever NHL base game to take place in Tampere.
The NHL is a global league, with more than 30% of NHL players born outside of North America this season. All four clubs have a number of foreign stars on their rosters, including natives from the host countries. Roman Josi from Predators will perform in his hometown of Bern, Switzerland against his former SC Bern team in October. Czech natives Tomáš Hertl and Radim Šimek of the Sharks and David Rittich of the Predators will play in their home country for the first time as NHL players. In addition, Mikko Rantanen and Artturi Lehkonen of Avalanche, as well as Tampere native Patrik Laine and Joonas Korpisalo of Blue Jackets will play in their home country, Finland, which is also home to Blue Jackets general manager Jarmo Kekalainen.
San Jose, Colorado and Columbus have played home games in Europe, while Nashville has played two home games in Japan and will debut in Europe. Sharks and Blue Jackets split two matches in the 2010 NHL Premiere Series in Stockholm, Sweden (San Jose 3, Columbus 2, October 8, 2010; Columbus 3, San Jose 2 (extra time) October 9, 2010). In 2017, Colorado traveled to Stockholm for the NHL Global Series, where they lost to the Ottawa Senators in two games (Ottawa 4, Colorado 3 (overtime) on November 10, 2017; Ottawa 4, Colorado 3 on November 11, 2017). The Predators played with the Pittsburgh Penguins during GAME ONe 2000 Japan, where they shared two games with the Penguins in Saitama (Nashville 3, Pittsburgh 1 on October 6, 2000; Pittsburgh 3, Nashville 1 on October 7, 2000).
More information about the NHL Global Series 2022 and the 2022 NHL Global Series Challenge will be released as soon as they become available at NHL.com/fi, NHL.com/cs and NHL.com/de and on international social media accounts @NHL_fi, @ NHLcz and @NHLde, which will serve as the official home for all the latest news and information about the NHL Global Series 2022 and other features from across the NHL. Media wishing to receive notifications and notices regarding the 2022 NHL Global Series and the 2022 NHL Global Series Challenge must register and log on at www.media.nhl.com.